A house for change
Lessons learned in the design and construction of the Gabriola research and demonstration house will inform the creation of our future Eco Healthy Homes prototype and builders' resources.
Visit the project introduction page and demonstration phase page for more info.
You can follow our progress and featured topics and products of interest on this blog along the way. Regular blogs and outreach will begin once we are at lock up.
Progress on site
Trees have been felled and milled into building lumber
Driveway and intercept drainage complete
Concrete foundation complete
Ministry of Health approved wastewater system installed
Salvage sandstone rock walls built to retain soil and maximize flat areas for food growing options
Power is in with a tiny hydro shack built (80% salvage materials) (temp project office)
Home and attached workshop framed and sheathed
Peel and stick vapour permeable Vaproshield roof membrane is on
Standing seam metal is on lower roof and about to go on upper roof
Housewrap and temporary window coverings are in process
Insulated concrete floor is in
Post and beam mezzanine level is 90% framed
Two partition walls are started
Redesign
The original design was on top of a garage/workshop space and the house area was 600 square feet plus 150 square feet of loft.
The hillside build required a larger, and more costly than anticipated engineered concrete foundation. A mini house on top of such a substantial investment in the foundation was problematic ecologically and economically. It was extravagant from an ecological perspective due to the carbon footprint of the concrete. And it presented financing challenges with the uneven ratio of 'value below vs value above' .
The revised design sunk the house into the bank to better utilize the thermal mass and durability of the concrete walls and floor by making them part of the house itself. The addition an uninsulated workshop behind/above the house offers future upgradability. The new house design is still a 650 sf footprint plus 350 sf workshop. With loft space the house is 950 sf and the workshop has the potential of a small loft area as well.
Small is beautiful
Though the redesign to bigger design was a prudent decision for this build, the Eco Healthy Homes Project, of which this build is supporting will be emphasizing the benefits of small design with the future Eco Healthy Homes prototype. It will be a mini-home sized to suit limitations for secondary dwellings in many communities.
October 2022
June 2022









February 2022
November 2021
June
Getting ready to plane fascia, soffit etc.
May
Roof membrane
The high performance, vapour permeable Vaproshield Slopeshield Plus (peel and stick) membrane has been installed. After a long wet winter building season, this is a monumental step.
On the workshop roof you can see the self adhesive layers that are temporarily held in layers at the edge to allow us to slip flashing and finish fascia below it (in good weather and once the fascia has been stained). Keep an eye out for a post on this amazing product line this summer.
Diagonal lumber sheathing
Diagonal lumber sheathing is optimal for a self drying building envelope. It is not a vapour retarder like plywood is and so is well placed on the outside of the building so any moisture in the wall cavity can dry outward in the winter and shoulder seasons. It is also:
more mold resistant than sheet products
free of carcinogenic glues
healthy to work with
healthy to live with
localize-able (can be milled on site or in the community from sustainably sourced trees)
Below is the rafters and beam for the extra overhang roof over the patio doors. It will be left open to show the pretty fir lumber. All lumber is treated with a natural preservative – anti-insect/anti-fungal/anti-fire Woodbliss. Keep an eye out for a post on this exciting product.
Border sandstone salvaged from another Gabriola build that blasted a foundation (Thanks Bill and Diane!)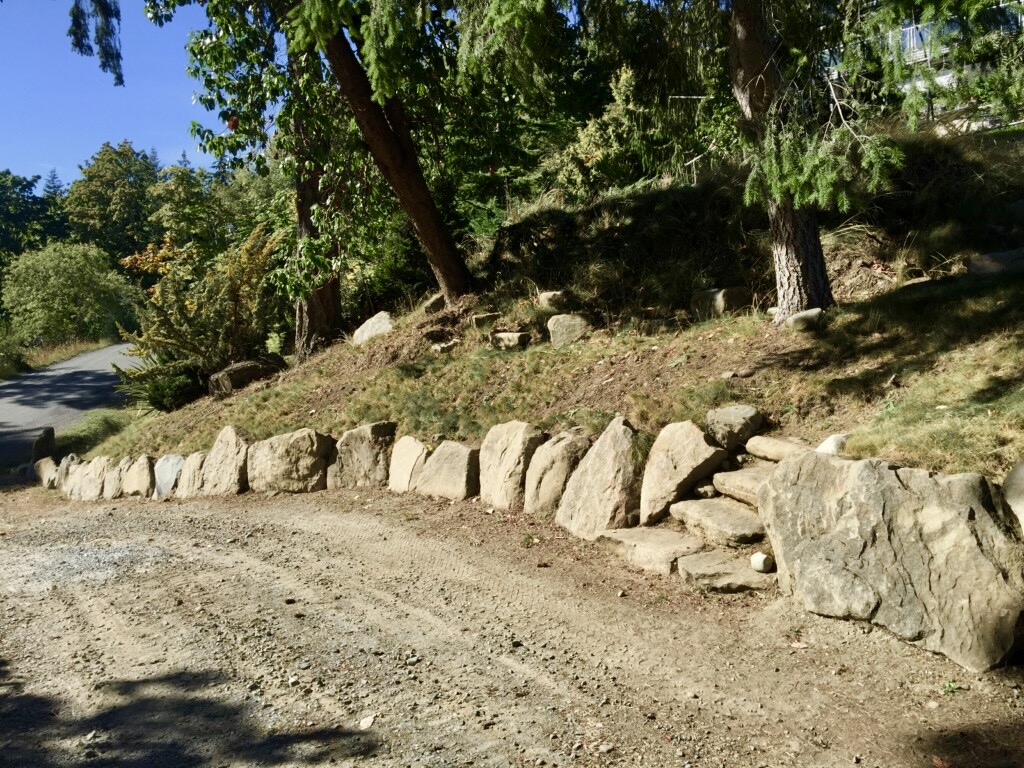 Low low Eco Grass is a fescue blend that is slow growing and highly drought resistant. It is helping to control erosion and weeds after soil disruption. We removed 1000 pounds of the invasive Daphne plant in the first year and continue to battle it.
The power shed with all salvage and site milled exterior
Power shed acting as storage and office shack during construction